Are you adapting Action Heroes Book One to suit a very young Sunday School class? Here are some tips and tricks to help as well as the lesson plan outlines adapted by one of our Sunday School teachers to suit a class of 2-3 year olds.
BOOKS:  We recommend you purchase a teacher book as a guide to the lessons, but rather than buy student books for a class of very young children (ages 2-3 years) we suggest that you provide everyone with a scrapbook to keep their artwork, memory verses and stickers in.  This scrapbook is often something they are very proud of and young children may want to review the previous lessons and the accompanying illustrations many times.
COPYRIGHT: If you have purchased a copy of the teacher book for your class, you have permission to make copies of the colouring pages for each lesson for use in class.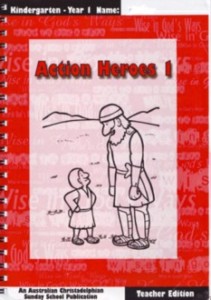 Unit 1 – Creation
1. God made the world
2. God made the animals
Unit 2 – God cares for us
3. God cares for Noah
4. God cares for the Israelites
5. God cares for Joshua
6. God cares for David
Unit 3 – Kindness
Memory verse
7. The woman at Shunem
8. The parable of the good Samaritan
9. The good shepherd
Unit 4 – Listening
10. Mary and Martha
11. The parable of the sower
12. The parable of the builders
Unit 5 – Love
13. Moses and the ten commandments
14. Ruth
15. Jesus and Zacchaeus
16. Fruit of the spirit
Unit 6 – Families
17. Abraham, Isaac and Jacob
18. Joseph and his brothers
19. Esther
20. Mary, Joseph and Jesus
Unit 7 – Saying Thank-you
21. Jesus and the ten lepers
22. Feeding the five thousand
23. Jesus and Lazarus
Unit 8 – Helping
24. The five friends
25. Jesus washing the disciples' feet
26. Shipwreck on Malta
Unit 9 – Talking to God
27. David
28. Hezekiah
29. Daniel
30. Jesus