Seniors – 15 years +
Three new books of Senior Lessons are in development and Book One is now available.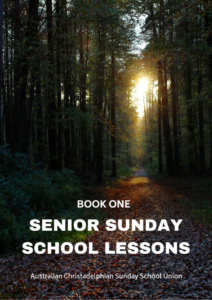 Book One:
There are 28 lessons, seven in each of four strands:
Understanding the Bible
Developing a Conscience
Developing Relationships
21st century Issues
Each lesson is independent and can stand alone.
The book is available in paperback, ePub and Kindle editions.
The Australian Sunday School Union also recommends a variety of additional resources for senior Sunday School classes: